© Copyright 2000. West Indies Cruises, Ltd. All Rights Reserved
This luxury cruise ship is definitely one-of-a-kind
and offers passengers not only the most exciting
Caribbean itinerary today but also an intimate and luxurious cruise vacation where attention to detail and excellent service have redefined cruising in the Caribbean.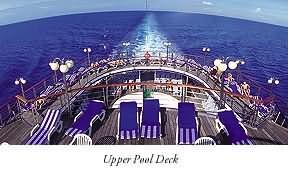 Valtur Prima offers complete amenities including a full-service spa and exercise facility, beauty parlor, gift shops, cigar lounge, card room, casino, disco, showroom, movie theatre, a choice of dining facilities, meeting facilities, spacious sun decks, and so much more. Each and every cabin is not only spacious but each comes with a full bathroom equipped with a bathtub, bidet, hair dryer and vanity, and each has a mini-bar, telephone and a color television. Please see the ship tour section for more information and a photo tour.
Valtur Prima departs every Friday from Montego Bay, Jamaica, and the moment you board the excitement begins. You first set sail for Grand Cayman prior to arriving in Havana, Cuba where you will enjoy two days touring this exciting city in a "fully hosted" tour. Just take a brief look at some of the spectacular sights you will see in Havana in our Ports-of -Call section of this web site.